What would you do if you found out that you've accidentally qualified for a World Championship Race for Swimrun in Sweden? Well, in my case, at the prize-giving of the 2019 Ötillö race in Croatia, you choke on your steak and look around desperately for anyone who looks like they could do the Heimlich manoeuvre. You then try and get to the stage as quickly as possible, making sure you hit every obstacle along the way and furiously pump the hand of the organiser until he looks uncomfortable with your enthusiasm. You would then wave your credit card frantically in his face before he realises he may have made a mistake. You would then drink beer and celebrate with your new Swimrun friends and drown in the post-race endorphins.
Then you would start to research the race.
CNN have ranked it as one of the toughest endurance races in the world. Competitors travel a total distance of 46 miles, 6 of which is swimming between the race's 24 islands. There is a total of 46 transitions between swimming and running. All of this takes place on an archipelago of islands off Stockholm in the Baltic Sea. The running is very technical, scrambling over rocky coastal areas, blundering through forests, climbing over rocks, abseiling down a slippery slope and cruising along dirt tracks. The rocks at the entry and exit points for the swimming were very slippery and apparently make you look like Bambi on ice…

Equipment for this type of event is essential for both comfort and to improve the likelihood of finishing. 75km is plenty of time to create a life changing chafe in the most unfortunate of places. Wetsuit choice is paramount and needs to cope with two very different environments. Too warm and you'll boil like a tea bag on the run. Too thin and flexible and you'll suffer like a polar bear with a particularly bad cold in the swims. Julia (my wife) and I have used a Yonda suit for the last season with great effect. Yonda is a young, vibrant Yorkshire based company and this year with their open water 'Ghost II Wetsuit' achieved the honour of 'Best on Test' by 220 Triathlon Magazine.
After the Yonda wetsuit the next lifesaving piece of kit would be the trail shoes. Again, there is a juggling act between comfort and grip. Too comfy and you would end up getting slam dunked by the slippery rock demon. Too grippy and you would feel like you were running on steel plates for a very long time. I embraced the VJ XTRMs and purred over my choice.
For Swimrun events there is enough kit to rival an over enthusiastic triathlete, but that blog can await another time.
The race experience started thick with anticipation midday on the Sunday. The bus terminal was awash with sleek, shiny athletes covered in branding and looking very glamorous. Mixing with the elite of a sport was exciting and a little intimidating. I kept reminding myself that the organisers had taken payment so they can't have made a mistake. Yes, I was indeed supposed to be here. This was the 14th edition of this race and the young sport is blossoming into a global entity. Athletes and equipment are improving rapidly to cope with the demands of the sport. Better, faster, stronger!
Registration and mandatory briefing took place at the Djurönäset Spa resort, a simply stunning venue with amazing facilities. I only regret not having the time to enjoy the facilities for more than a few hours. The organisers cannily collect the athletes for 3 days and create an amazing experience both during and around the race. A quick meal and kit-check and it was off to bed for the usual 'I'm too excited/nervous to sleep' experience.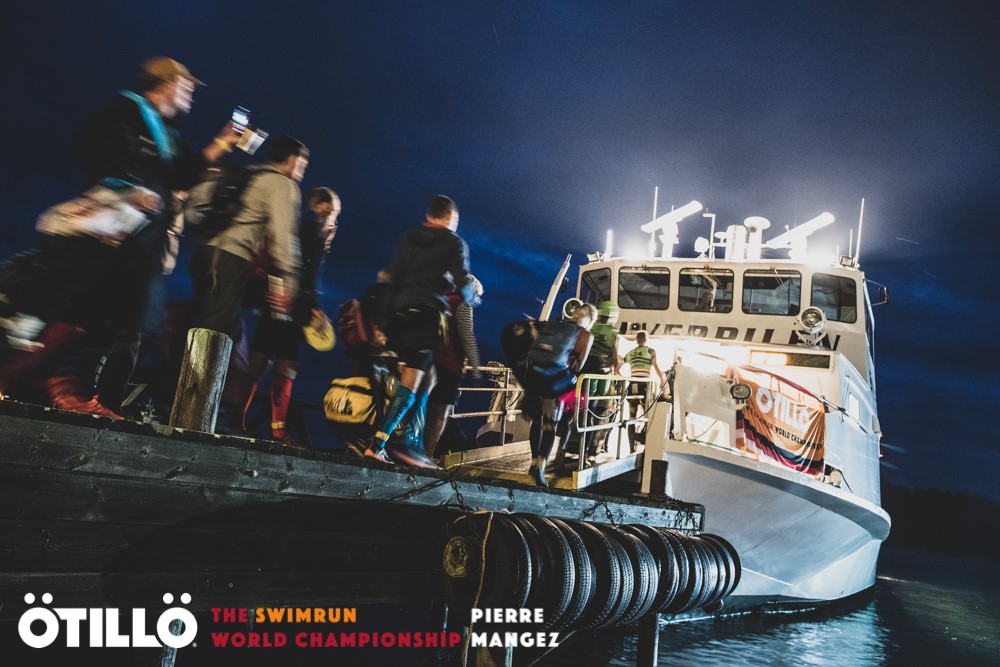 We were up at 03:00am and on the ferry to Sandman shortly after. The race started at 06:00am and had a 14-hour time limit with various cut off points throughout the course. Before we could blink the gun had gone and Julia and I were jogging though a forest to the first swim. What followed was a confusing melee of thrashing limbs while desperately focusing on a distant flashing strobe light. We are strong swimmers and pulled through the field and readied ourselves for the long day ahead.
I have to say the race has a strong focus on environment. The scenery is breathtaking and the ethos of Swimrun is to have minimal impact on the course and leave it as clean as you found it. It relies heavily on the goodwill of the landowners to allow the course and a massive thanks to them for allowing this amazing experience. The supporters and marshals were magnificent. They, along with my amazing partner, helped me slay the black demons intent on making me throw in the towel.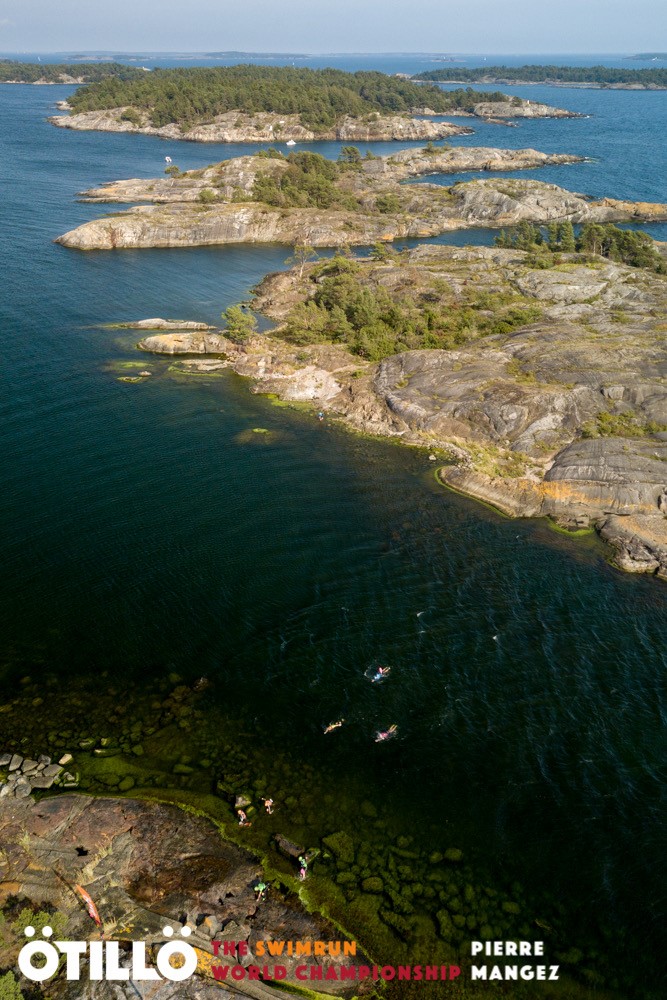 How was the race? It was tough, technical and long. It lived up to its reputation! I had dark patches with voices whispering in my ear to quit, lie under a tree and laugh at weird people running in wetsuits and swimming in trail shoes. My race partner was supreme and got stronger as the race progressed. She understands me and anticipates my nutritional needs. Frankly, she makes me a better swim runner.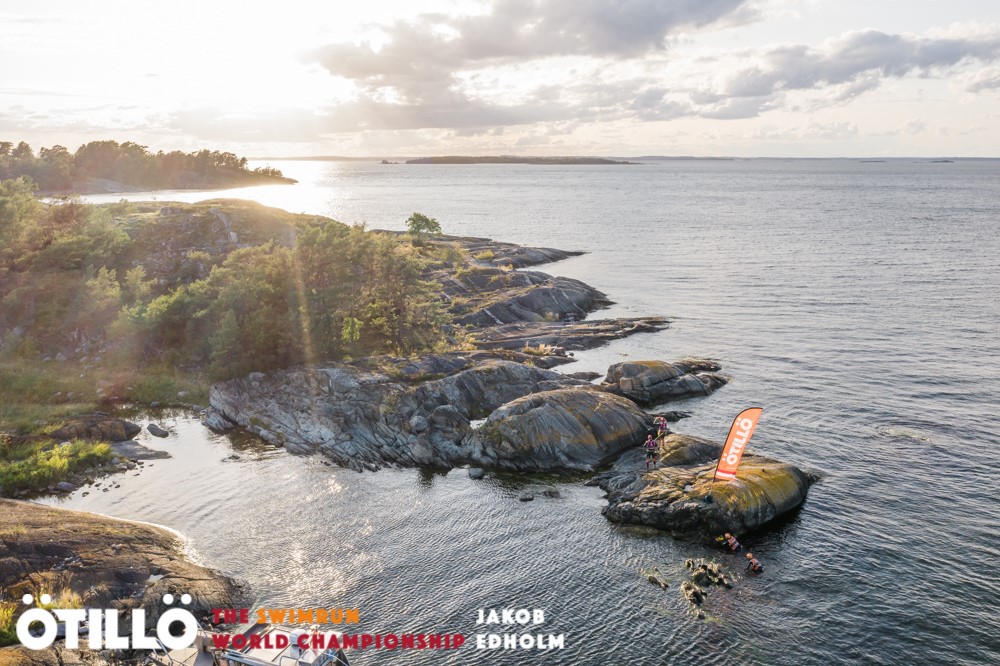 Through a hazy fog of swims, runs and rest stations we ground our way to the end. Before I knew it, I was being pushed up a hill in the last 400m of the race. Who puts a hill at the end of 75km?! But I'm proud to say I ran every step of the last 3.6km to the finish line. Finishing the race was surreal and I was utterly spent. I was gifted with a medal around my neck and a congratulatory hug from Julia and the race organiser Michael Lemmel, who is something of a character… The complimentary Ötillö beer shortly thereafter mysteriously evaporated after a few sips and I was forced to finish Julia's. Following a shower and change we were met with a banquet that had tables groaning. The 'hygge' (please look the word up!) that followed was amazing and added to an already lifelong memory.
After a patchy night's sleep and formidable breakfast we soon found ourselves sitting on a ferry bound for Stockholm. As the ferry slowly drew away from the quay, the race directors Michael and Mats came down to wave us off. Spontaneously the entire upper deck stood and gave them a standing ovation. Such was the power of the experience.
Would I do it again? In a heartbeat. However, the sport is developing so quickly and the standard getting so competitive that qualifying again is far from a given. At least I can carry on my happy midlife crisis knowing that I have completed a bucket list tick that is the mighty 2019 Swimrun World Championships.
A huge thanks must go to my in-laws Pauline and Chris, the extra team members that made this year possible. They stepped forward and looked after Kaia (my daughter) time and again whilst we prepared for the massive race. Thanks also to my parents who kept an eye on our princess in Denmark whilst we startled the locals in the water and forests around Faaborg.
Team Huss and Whiff came 21st in our category and 75th out of 160 teams overall. There is much that I can improve on, but nothing can take away the experience and achievement of taking part in and completing the epic Swimrun World Championship race, the Kona of the Swimrun world.